WagerWorks Casino Review – A Living Legend Among Software Developers
Once a very well-known name in the online casino software scene, WagerWorks has seemed to disappear over the years, yet its games and software solutions continue to be alive and well even to this day. WagerWorks was established as a company that created the gaming software for land-based casinos. After the online casino industry expanded at an amazing rate, WagerWorks started to make games for the online casino sector as well. Many years later, the business was acquired by bigger players in the industry, and today WagerWorks continues to exist through its products.
What Kind of Games Can You Expect from WagerWorks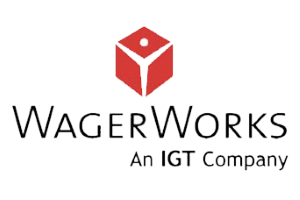 A little over 100 gaming titles, WagerWorks offers slots, card games, and table titles as well. As a rule of thumb, the majority of those numbers are populated by slot titles; but that is to be expected. This software developer is one of the few ones that offer titles with names and themes modelled after popular franchises, such as Monopoly, Battleship, Elvis, and quite a few others. Although there aren't that many games, WagerWorks has seemingly decided to cover the basics and offer at least one title in most categories.
Starting with Video Poker, we are presented with 3 types – Jacks or Better, Bonus Poker, and Joker Poker. There is a single type of classic Roulette, which looks "European oriented" as it features one zero, and relatively low house edge. In the card game selection, we have a single Baccarat variant, and two Blackjack types – Classic and Power Blackjack. Hi-Lo is another card game that has two variants, followed by Poker with four types (Caribbean Stud, Static Caribbean Stud Poker Side Bet, Progressive Caribbean Stud, and Three Card Poker) and a single version for Keno, Craps, and Match 3 (a scratch card game).
Is There a WagerWorks Live Casino
Even when the company was under the ownership of the-now-non-existent "Silicon Gaming Inc.", it didn't seem to offer any live dealer services. Given the fact that WagerWorks is a company that dealt exclusively in producing software, there was no mention of any live games in its portfolio. Even after the company was acquired by IGT, this fact continues to remain unchanged. People that are looking for WagerWorks mobile live functionality or any other online live dealer games would remain a bit disappointed. So far, there isn't any information on whether WagerWorks has ever offered or will ever offer live casino services.
Platforms That Accommodate WagerWorks Casino Game Titles
To answer this, first, we must take a look at what platform is used for the development of WagerWorks' gaming software and then determine its compatibility with other software. All WagerWorks games are implemented on Flash; this multimedia software platform is mainly used by browser applications on all popular operating systems – Windows, Mac and iOS, Android. Any stationary or mobile device that works with those operating systems will be able to run WagerWorks Flash titles. Recent industry news, state that the era of the software platform Flash is going to end in a few years, which could mean that the entire WagerWorks casino software roster will need to be overhauled.
Licenses and Legality
Concerning the legality of the business, WagerWorks' company, staff, and software solutions all pass with flying colours. The company also follows its own rules, making sure that all licenses based on popular franchises are valid and up to date for every separate online casino game they offer. The core technologies of the company are regularly validated by the independent administrations such as Technical Systems Testing (TST) and Global Gaming Services. WagerWorks itself is licensed by the Isle of Man Government, as well as the Alderney Gaming Commission.
The legal compliance team of WagerWorks has filed more than 500 gaming applications in 30+ jurisdictions. The company has been so dedicated to affirming its legal status, that it also is engaged in determining future regulatory advocacy. WagerWorks has helped in the creation of new regulatory legislation in order to ensure that knowledge about the modern legal landscape remains in harmony with the future growth of the industry. By holding themselves to the highest standards available, WagerWorks show the level of professionalism and involvement in the market they possess.
Important Company Restructuring Details
At this point, we would list more information regarding the RTP rate of any software developer's titles, however, WagerWorks experienced an evolution in its own economical being, becoming a part of another software developing company – IGT. Around a decade ago, IGT (International Game Technology) purchased WagerWorks and acquired ownership of all its assets – this includes all original game titles produced by the company. Even before being associated with its current parent company, WagerWorks was working with high-profile brands such as Hard Rock Casino and BSkyB.
Positives and Negatives
Starting off with the few cons, WagerWorks doesn't offer that many progressive jackpot slots – to our knowledge, they are only three. The video poker section is also not that impressive, and the fact that all of the games are meant for instant play leaves players who like to download their casino software wanting. On the other hand, WagerWorks sets a standard when it comes to showing the full potential of the Flash platform it was developed on. WagerWorks online casino games are considered to be some of the best looking and sounding ones in the entire industry, and this is no small feat to achieve. The highest progressive jackpots available among online casinos are also attributed to WagerWorks slots.
What Follows for WagerWorks?
As of late, the brand of WagerWorks is only mentioned in the old posts of its new IGT parent company's website. An interesting fact is that it IGT acquired the software developer not only as an asset but as an active part that would take lead in developing a new division responsible for the online and mobile gaming markets. Being fully assimilated into IGT's business network, today WagerWorks continue to develop superior software solutions for its parent company.

Preferred Casinos In Your Location