Novomatic Casino Software – Still Relevant Today
This casino hardware and software developer is surely one of the biggest ones in the industry. With more than thirty thousand employees the Novomatic Group has subsidiary businesses operating in 50 countries, proving that it is one of the biggest players around. Be that as it may, numbers aren't everything and when it comes exclusively to online casino solutions, Novomatic surely shines in some respects while lacking in others. In this review, you will find out more about the company's strong and weak points, as well as how they came to be.
Products and Services Offered by This Gaming Technology Company

The main business of Novomatic as a company is to develop and supply games for land-based casinos. Slots, electronic game tables, and mixes are produced no only by Novomatic, but also by some of its subsidiary companies such as NovoLine, Cool Fire, Impera Line, and Octa Games. Although game production is a big part of the business, other products include Casino Management Solutions, Interactive Services, Lottery Solutions, Media Technologies, and Sports Betting Solutions. Sadly, the online casino category of the entire business seems to be the least populated one.
Novomatic Casino Games – What to Expect in General
It would seem the favourite genre of Novomatic are slots. While there are a few Roulette, Baccarat, Blackjack, Poker, and Sic Bo versions, they don't even come close to the number of slots put forth by Novomatic. In a successful business move, the company is constantly looking for an opportunity to acquire different software developing studios, in order to add them to Novomatic's already vast team of professionals. Curiously enough, the companies that do "join the family" are also excelling at the creation of slot titles.
Slots and Even More Slots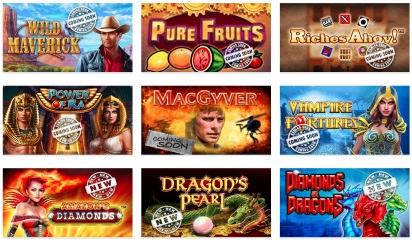 Currently, they offer 342 slots for physical cabinets with original and franchise-licensed titles, and only a small quantity of those have been re-made to fit online casino sites. Below, we have explained the most common types of slots which are present in Novomatic's gaming roster. It is known that the online slots of Novomatic can't be considered very detailed, but the lack of extra detail is compensated with the sharp graphics, vivid colouring themes, and wonderful sound quality. Below, you can see the slot modes you can expect from Novomatic.
Linked Jackpots Slots
Designed to be present on the floor of any land-based casino, Novomatic's linked jackpots are connected in a network that allows for bets to fill a combined prize pot from all the provided slots. Available in multi-level progressive modes, some of the most renowned slot titles linked in a common jackpot are the Book of Ra, Four Seasons Jackpot, Tales of Darkness, Magic Joker, Luxurious Life, and so many others. While most of these titles are made for hardware terminals, the most popular titles are also made for online casinos – such is the case with the Tales of Darkness and Book of Ra, which are considered to
be among the most popular slot games from Novomatic's roster.
Standalone Progressive Jackpots
There is a lot more competition when it comes to slots connected to the same network – this is why Novomatic also offers standalone progressive jackpot titles. Those titles basically mean that players won't have to worry about another player hitting the jackpot before they do; as the jackpot is contained within one game title only. The available standalone, titles are as follows: Pyramid Fortunes, Goddess Rising, Book of Ra – Mystic Fortunes, Voodoo Fortunes, Treasure of Tut, Asian Fortunes, Big Five, Lucky Rose, and a licensed franchise title From Dusk Till Dawn. So far, the only slot title series that is present in all jackpot types in both offline and online casinos, is Novomatic's most famous one – the Book of Ra.
The Novomatic Live Dealer Casino Journey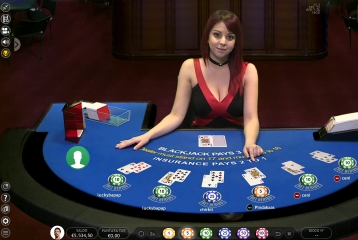 Novomatic doesn't have a live dealer studio of their own – but that doesn't mean that at some point in the company's existence, they didn't have the capacity to offer live dealer casino services to their companies. In fact, in 2014 Novomatic acquired the well-known live dealer studio services provider Extreme Live Gaming. The studio itself is legitimate and is licensed by the UK Gambling Commission and the Malta Gaming Authority. Through it, stand-alone versions and also Novomatic mobile live dealer functionality was available for a short period of time. Only a few years after the acquisition of ELG, news came out that Novomatic decided to sell it to another company. Without any explanation, Novomatic ended up like it had started – without a live dealer product to offer.
Novomatic Needs and Makes Strategic Business Alliances
The company realizes where in what categories it is lacking, and this is why it wants to do everything possible to stay relevant to the online casino market. One successful business move was signing a cross-licensing agreement with another famous developer in the online casino industry – IGT (International Game Technology). This has allowed Novomatic to offer games from the portfolio of IGT while paying licensing royalties in an ongoing manner. International Game Technology offers much more in terms of online casino titles, and it is why Novomatic decided to create an economic alliance with them.
Which Platforms Support Novomatic?
We couldn't find information if Novomatic's online casino titles were offered in any type of standalone software. From what we could deduct, the only way a client would be able to access them is through a Flash and HTML-supporting browser running on Windows, Android, Mac and iOS. The same goes for any Novomatic mobile casino functionality – instant play is the only way to experience any online games. So far, there have not been any announcements regarding the development of any Novomatic casino app.
The Good and Not-So-Good
Perhaps the best part about Novomatic is that it offers complete casino solutions. Be it off or online, there are quite a few operators that partake in the products offered by Novomatic, and if not for their games, it's the management systems and marketing solutions they offer. Another positive is that the software they produce for online casinos is quite stable, fully compliant and compatible with today's modern standards, which make their games a nifty addition to any operator's roster. Perhaps the only few substantial drawbacks, are the fact that such a large company doesn't offer live dealer solutions, and a relatively small amount of titles meant for online casinos.
Certificates and Recognitions
As a company with a net worth in the billions, you can be sure that Novomatic strives for excellence in what they do. They are regularly audited and inspected for fair business conduct, as well as awarded for numerous achievements. The Federal Ministry for Family and Youth of Austria has granted them a certificate for excellence in social/ work relations; other awards include "Best Recruiters 2018", a NESTOR Gold certificate by the Ministry of Social Affairs, the Seal of Quality by the Austrian Network for Workplace Health Promotion, and a certificate for "Leading Austrian Company".
In Conclusion of Our Novomatic Casino Software Developer Review
While being in the casino industry for more than thirty years, it seems that Novomatic has only recently started to explore the online casino market as a whole. We see that the company constantly tries out new things, introduces innovations, and forms new business partnerships in order to prove its relevance to the online industry. While a bit slow, progress is still progress, and with this company's vast resources and determination, it won't come as a surprise if Novomatic becomes one of the leading software providers in the online casino market in the future.

Preferred Casinos In Your Location