A Craze That Enveloped Land-Based Casinos in the 70s is now Available Online – Read our Guide to Online Casino Video Poker
A mix of slots and poker, video poker can now be played at a range of different online casinos. It was very popular in land-based venues in the 70s and has transferred very well to the online casino. It's not a very complicated game to play. In fact it's as easy as slots but requires a little more interaction and skill to play successfully. It's a game that anyone can play as long as you take the time to understand the rules and the basic poker hands. We can help with both of those along with a few other important bits of information. There are also plenty of online casino video poker reviews for you to read, to help you pick the best place to play your games. But we'll start with a brief look back in time, to see where video poker comes from. And don't worry it's not that long a lesson, because video poker as we know it today, has only been around since the early 70s.
A brief look back in time to discover where video poker came from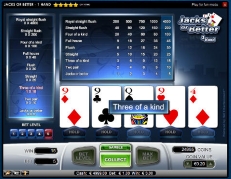 The origin of today's video poker game is 1901, when a very similar game was played, although it didn't have a screen. Slots were already very popular, and in 1901 a guy called Charles Fey added a draw feature to the slot machine he'd invented. It enabled players to spin again, while holding some of the drums that contained cards. In 1979, a company called SIRCOMA (Si Redd's Coin Machines), invented the first modern day video poker machine. It was Draw Poker. It became more popular in the 1980s because people found this version of the game of poker far less intimidating than playing against real people at a casino table. And even though internet poker now allows players to play anonymously and feel less intimidated by other players, video poker has still been growing in popularity.
Playing casino online video poker is easier than you think
If you're already a poker fan then video poker might just be the game you're looking for when you need to take a break. And if you're tired of all the hanging around that's involved in playing poker, video poker is a fast paced game that offers much quicker results. Rather than playing one hand every 15 minutes or so you can play a hand in just a few minutes because it's just you and the house that are playing. The aim of playing is to hold a poker hand that makes the payout board. There are quite a few variations of video poker you can play, Deuces Wild, Crazy Eights, Jacks or Better and plenty more, but all follow a similar format. Video poker games are based on the hand ranking used in 5 Card Stud. If you haven't played this before let's set it out for you, from worst to best.
Hand ranking system for video poker
| | |
| --- | --- |
| High card | Flush |
| One pair | Full house |
| Two pairs | Four of a kind |
| Three of a kind | Straight flush |
| Straight | Royal flush |
In most video poker games you're going to need at at least a pair of Jacks to win. A high card or just any pair just won't cut it. Actually playing the game is very easy. First you have to place your bet and click the spin button. After which you'll be dealt five cards, all face up. If your cards include a pair of Jacks then you're off to a brilliant start and already in the winnings. Doesn't matter what you have though really, because you can throw away as many as all five of your cards. After you've got your new cards you'll receive a payout depending on whether you've ranked on the payout schedule. Jacks or better and you should get some cash, but you should really check the rules of the casino where you're playing. The higher your poker hand the better your win. But we have to advise you that the rules can vary depending on where you're playing so remember to check them out. Even the hand ranking can vary and in some real money video poker games there are wild cards, Jokers, eights or twos. If wildcards are thrown into the mix a 5-of-a-kind hand is impossible. You might also find certain games that play out differently depending on whether you hit a Royal Flush with wilds or without. There are various types of video poker you can play. So let's move on to look at some of the most common.
Recommended by more than 25,000,000 players and a WINNER of:


Fully Certified Casino
Various types of casino online video poker
There are a ton of different video poker online casino games to choose from. When you first visit a video poker site you might feel completely overwhelmed by the choice. There are a number you will find at most online casinos so we'll introduce those to you so you've got an idea where to start. Once you've played a few of the most popular games you'll feel more confident to try something different.
Jacks or Better
This is one of the most common casino online video poker games you can play. Basically, you win if your final hand contains a pair of jacks or something better. There are various versions of this game, with the main difference tending to be the payouts for full houses and flushes.
Deuces Wild
This is a variation of video poker in which all the 2s are wild. It has a theoretical return of more than 100% but this kind of game would be very hard to find.
Double Bonus
This is a variation of 'Jacks or Better' in which there's a bonus payout for four aces.
Double Double Bonus
Another version of Jacks or Better that offers bonus payoffs for different four of a kinds.
Joker Wild
This game has 53 cards instead of 52, because of the addition of a wild joker card. The wild card can be used to replace any card in order to create a winning combination.
Aces and Eights
In this version you get a payoff if you get four of a kind that's either aces, eights or sevens.
Aces and Faces
As the name of the game implies you get a payoff for four aces or four face cards.
That should be enough of an introduction to the basic games so we'll move on to the benefits of playing video poker online rather than in a bricks and mortar casino.
The benefits of playing video poker at an online casino
It's not always been possible to play video poker online. For many years it could only be played at a land-based casino. This is still a very popular way to play this game but players are also flocking to play at one of the many video poker online casinos. There are a number of reasons why this is so:
You can take your video games with you wherever you go – if you choose to play video poker at an online casino you can play the games when you're at home. And with the help of mobile video poker casinos you can also take your games with you to play when you're on the move.
Lower minimum bets – when you play online video poker the minimum bets are much lower than a land-based casino, sometimes as little as1 cent. Whereas, you'll have to pay at least a quarter per hand in a live venue and in order to achieve the highest payout percentage you'll have to bet 5 quarters.
Variety of games – both land-based and online casino offer a variety of games, the difference being that with an online site you just click the mouse a few times and can move to another game. You can even play two or more games at once if you want to.
We'll finish up with a few helpful tips to improve your chances of winning when you play casino online video poker.
Our top tips for playing video poker successfully
Practice makes perfect
There are a number of good online casinos that offer players the opportunity to play for free which means there are lots of chances to practise before playing for real money. If you've got a strategy practise it and see whether its going to produce results.
The ace is not the most important card
Video poker is a little different than other poker games in that the ace is not the most important card. This is because you aren't competing against other players, making it worth no more than any of the picture cards. It will, however decrease your chances of hitting a straight. And when you have three high cards it's always a good idea to ditch the ace.
Understand when to break the flush
One of the best video poker tips is to keep the hand that pays, but as is often the case, there is an exception to the rule. A flush is one of the most desirable hands to have as it tends to pay 6:1. But there are instances when it's a good idea to break the flush. One of which is to draw for a royal flush.
Never keep a kicker with a pair
It's very tempting when you've got one of the low pairs to hold an additional high card, just in case you hit a high pair. It's not a good idea because keeping a kicker with a pair reduces your chances by 5%.
If you're looking for a simple online casino game to get you started, video poker is a good one to choose. There's plenty of variety and it's not that complicated a game to learn. There are plenty of sites you can play for free so you can get in some practice and it's a fast-paced game that can be a lot of fun.
Other Casino Games You May Play
Our Favorite Online Casinos