Any Aristocrat Casino Will Impress You with More Than Just History
When people learn that Aristocrat's history begins more than half a century ago (yes, you read it right), they are impressed, to say the least. While indeed true, the company didn't enter the online casino scene only until a few years ago – but that was because Aristocrat was heavily geared towards the land-based part of the casino business. Today, this software developer has a few interesting things to offer to operators everywhere, and even more. Let's take a complete look at one of the most interesting developers in the online casino software industry – Aristocrat.
Aristocrat Casino Games – Few But on Fire!

When it comes to quantity, this isn't one of Aristocrat's strong points – but that doesn't mean that they are not on point. In fact, Aristocrat's titles are currently around 120 in number – not all of which are meant for online use. The interesting observation here is that all of them are superior in both design and playability to many other software developers that have been in the industry for much longer. Take note, that Aristocrat doesn't provide a complete casino software solution, rather casino-ready titles mean to enrich the roster of any online gambling venue.
There are original titles such as Weird Wicked & Wild, Buffalo, African Big 5, Mr Cashman, Queen of the Nile Series, More Chilli, Good Fortune, and a few others. Besides the original games, Aristocrat also creates slots modelled after popular franchises such as Britney Spears, Game of Thrones, Sons of Anarchy, The Big Bang Theory, The Walking Dead, etc. If you see any of these titles in your online casino of choice, they will be provided by Aristocrat. The company has a few progressive line titles, all connected under the same network called Lightning Link.
Aristocrat Live Is Sadly Unavailable
Missing in both card and table games, Aristocrat is also sadly lacking in the live dealer department. There are occasions when a software developer that doesn't offer any live dealer games, usually licenses the services of a different company – however, this isn't the case with Aristocrat. The company values its own production team and policy very much, and they stay behind the quality of the products they offer because of its native origin. Surely, if there would be a regular live dealer or an Aristocrat mobile live function introduced by the company, it will be accompanied by a remarkable volume of announcements.
Is Aristocrat Mobile Enough?
Top Aristocrat Casino
Multiple Games
Casino, Sports Betting, Poker
Regulated by UKGC, GGC
No deposit Bonus
All of the gaming titles produced by this software developer are properly optimized for mobile use, and it is why it wouldn't be surprising to see the slots of Aristocrat in a mobile online casino. While the same can be said about any other gaming titles featured by a specific casino brand, there may be a case where Aristocrat games could be present in the mobile version of the website, but not included in the app's gaming roster. A reason for this would be the different licensing agreements and policies that would apply when a slot title is incorporated into an online casino application.
Smart device users won't have to worry though; there is an Aristocrat mobile casino app that features all of the company's famous titles with one small detail – you can play it only for free, as real money play is not an option. On the other hand, this isn't so bad – if a player wishes to familiarize with a particular slot, they can do so on the app without risking any actual funds.
Platform Availability
Versatility is a huge thing for any software developer, and it makes no exception here. The products provided by Aristocrat are ready to use in any browser that supports Flash or HTML5. All instant play titles provided by the company run great on Windows, Mac OS, and even Linux. Even mobile operating systems such as iOS and Android also support Aristocrat's slot titles – all that is required is a compatible browser. So far, whatever the implementation of the software should be, all Aristocrat casino games are compatible with all popular operating systems and devices.
Online Casinos that Offer Aristocrat Games
A number of famous online casino brands feature Aristocrat software in their slot roster. Among the many names, 888 Casino and Royal Panda surely testify on the validity of Aristocrat's software products. The truth is, many online operators would like to work with this software developer, but not all of them can meet the proper requirements set by the company.
Licenses and Credentials
Another very impressive aspect of Aristocrat is not only the fact that it has an outstanding global presence, but also that its products are licensed in more than 200 gaming jurisdictions, in approximately 90 countries around the world. Aristocrat's products include not only software solutions, but also casino management systems, electronic gaming machines, and other services – which all possess the necessary legal affirmations in the countries they are offered in. Last but not least, is the fact that Aristocrat possesses a USA license in Las Vegas Nevada, for the distribution of land-based slot systems.
Additional Information on The Company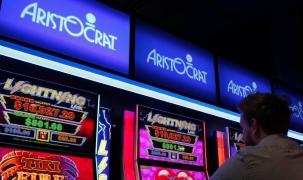 Aristocrat started out in the 1950's as a developer and manufacturer of reel slots. To this day, they continue to provide land-based casinos with exclusive slot titles, along with the hardware itself. Utilizing the latest in reel technology, Aristocrat creates some of the best slot machines in the world – the fact that every game uses its own dedicated hardware, allows the company to develop any of their slots with unparalleled quality.
Today, the company known as Aristocrat Technologies Ltd. is one of the leaders in gaming software development in the industry. With offices all over the world, the company has more than 5,000 employees which meticulously work on new and existing projects. Aristocrat believes in strong work relations, as well as working with people who are passionate about participating in the further development of the online casino software industry – it is why this Australian company is still going strong.
Acquisition of Popular Providers
As a company that is geared toward progress and personal evolution, Aristocrat has made the right call into buying a few smaller software developing companies and adding them and their online casino titles into its ranks. Among the new "family members" of Aristocrat, we count names such as Big Fish Games, Plarium, Product Madness, and VGT. Each of those companies has had successful hits with their own products, which today are a part of Aristocrat's combined software portfolio. An interesting thing here is that the company Plarium is actually producing games not of the casino genre – which only shows Aristocrats strive for diversity.
Some Benefits and Drawbacks
The lack of any live casino functionality is amiss which some operators and players won't ignore – especially if they are looking for a software developer that can provide a "complete experience". A general lack of game genres can also be a bit unnerving, but to Aristocrat's credit, they are focused on slots because they are good at creating them. With the exception of these few negatives, the company is definitely revered for its vast market presence, and various online casino solutions – aspects which are coveted my many operators today.
In the End
Aristocrat casino games are well-known for their player-favourable payout mechanics – which is why operators everywhere continue to feature this developer's software. This company is highly respected in both land-based and online casinos for their quality product and professional approach to any given task. It won't come to us as a surprise that in the future Aristocrat may surprise us with a fully tailored online casino platform. Till that time comes, make sure that you check your favourite casino section on a regular basis!
Preferred Casinos In Your Location