E-Check in Online Casinos are Widely Accepted
E-Checks are known as "electronic check payments", is a method for transferring money online. Used by both private individuals and businesses, E-checks are hailed as one of the best ways to transfer money. Competition in the industry between E-checks and other means for financial transactions is quite big, but E-Checks continue to be used worldwide. Today we will learn and explain how E-checks are utilized in an online casino environment, and how they stand up to other money transfer platforms.
What Is Essentially an E-Check?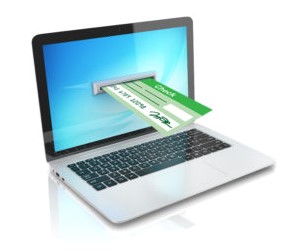 Factually, it is another means of performing a payment from a designated bank account, through the ACH (Automated Clearing House) network to the recipient online vendor account. It works in the same way as physical, paper checks do, but with a few more perks and benefits. As every payment method, there are some pros and cons to using an E-Check in online casinos, but the good generally outweighs the bad.
The Major Benefits of Using This Method
Safety, security, and verification are definitely valuable perks when it comes to any payment method. E-Checks have those characteristics; a major difference between electronic and physical checks is that the latter is quite easy to falsify. E-checks, on the other hand, are used as a means to prevent any type of financial fraud. The low flat-rate fees make it an ideal solution for business owners to make payouts to their staff; while private citizens utilize E-Checks for everything from paying their bills to depositing money to their online casino account. One of the best parts? You can use an app to write and send checks.
What Are the Drawbacks?
E-Checks are slow. Although the process is performed online, the verification, confirmation, and numerous other procedures needed to prove and transfer any funds may take from 24 to 48 hours. Another important drawback is the fact that in order to make an E-Check payment in an online casino, you would need to provide some personal details – which means that you won't have complete payment anonymity. Registering an electronic signature is also a concept that people won't like very much, but it is necessary in order to make a transaction.
Top Recommended Casinos Accepting E-Checks
Countries Where are E-Checks Used the Most
Currently, the United States of America is regarded as the world's largest check user. In fact, according to numerous sources, the first checks have been reportedly utilized as early as the 1700's! Due to the numerous institutions processing large volumes of money, a more fee-efficient method was needed to transfer money, and this is pretty much how checks came into use – with the rapid development of Internet Technologies, came the E-Check.
Why Use an E-Check at All?
It is considered to be the most secure way of making a payment, period. Its versatility allows for payers to use a variety of hardware and software mediums, and let's not forget that E-Checks are accepted worldwide. You can fund your online casino account via a physical check, as most transfer mediums convert it to an E-Check. This type of money transfer method is similar to paying with a debit card, as it uses money from your account and there won't be a risk of over-drafting funds.
Online Casino E-Check Method Availability
Although this method has proven to be quite safe, not every online casino lists it as a deposit option, especially with venues that tend to charge a fee for a "non-standard" deposit. When a merchant receives your E-Check, it won't cost you anything, but in some cases, it might, depending on the banking arrangements the vendor or online casino has.
What You Need to Have in Order to Send an E-Check
First of all, you will need to have a valid bank account. Second, you will have to open a so-called "checking account" that will utilize funds from your savings account. Essentially, the checking account will receive funds from your "savings balance" to be able to initiate a payment. This being said, there might be an upkeep fee for your checking account, that can range from $0 to $30 per month, depending on your bank.
Some Interesting Facts About E-Checks
E-Checks aren't new – they've been around for almost two decades, and when online casinos were just starting out, they used to offer this deposit method much more than any others. An E-Check is considered to be a "financial instrument". The term "bouncing check" means that there aren't sufficient funds in the account. A US council that was formed in 1995 regularly hosts forums for a variety of stakeholders in the Electronic Payments Association, in order to promote the conversion of paper checks to E-Checks.
Bonuses in Online Casinos Might be Available
It is no secret that online casinos regularly release numerous promotions and extras connected to their banking methods. While occurring quite rarely, bonuses for E-Checks can include a variety of in-game goodies. Free spins, deposit bonuses, and others – bear in mind that even if such extras are present, you will need to contact the customer support of your online casino, as E-Check promotions are seldom advertised.
Some Online Casinos Allow E-Check Withdrawals
There are some countries that although allow their residents to participate in online gambling activities (or users simply have access to the platform), can perform payouts via E-Check. This is usually done to avoid any restrictions or regulations in jurisdictions that do not allow banks to accept any transfers from online gambling venues. The most prominent example of this, is players from the United States of America, that play in European Online Casinos.
The E-Check Review Epilogue
Online casinos that take E-Checks understand that this payment method is making a comeback. Slowly but surely, E-Checks are expanding their user base, and more online gambling venues seem to re-introduce this payment method. It is easy to use, safe, fast, and should the sender have some thoughts about transferring money; they can cancel it before it arrives. Some people prefer using E-Checks compared to other methods, who knows – you might be one of them!

Preferred Casinos In Your Location