Casino Credit Card Payments – One of The Most Used Methods Everywhere
Credit and debit cards have become the most widely recognized methods for making payments. Nations worldwide try to adopt an even larger percentage of cashless means of payment, and in some countries, this has become an almost complete reality – only 1% of payments made in Sweden are done with coins and notes. This fact speaks volumes about the online gambling industry as well, where casino deposits with credit/debit cards are most prevalent. Learn how and why card/debit card means of payment today is considered to be the safest and most convenient ways to operate with the finances of your online casino account.
The Difference between a Credit and Debit Card
While this should be a very familiar concept to people who already use cards, some die-hard cash fans often mix up the two. Using a credit card is essentially taking out a loan from the bank the user has an account in. This credit loan has a compounding interest, and it will need to be paid off in a period of time usually determined by the bank itself. The debit card, on the other hand, is connected to the holder's bank account and is linked only to funds that are currently present and available. If the balance of the bank account is zero, a person won't be able to pay with an "empty" debit card.
Card Brands and Issuers are Different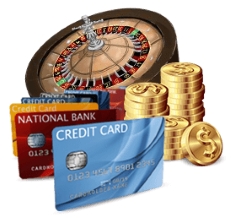 Although there are quite a few brands, the two most widely recognized brands in the world are VISA and MasterCard. They have become the standards for credit/debit card payment network operations, and today almost every bank in the world issues their own branded version of VISA and MasterCard. Those same companies branched out in other countries by releasing their own debit card brands Maestro (by MasterCard) and VISA Electron (by VISA). Although the brands are different, they are utilizing their parent payment network standards. While the "spinoff" brands are used exclusively for debit cards, that doesn't mean that there aren't debit versions of the original brands.
Cards with the Most Popular Payment Networks
The brand "VISA" has become synonymous with the phrase "credit card", and this is mainly because VISA is the most famous company in the industry. Processing more than $7 trillion a year and catering for more than 2.5 billion cards, it is easy why most online casino players prefer to use this brand. The number two place is steadily cemented by the brand MasterCard, followed by American Express (AMEX), and Discover. The most popular payment networks in Asia are UnionPay in China and JCB in Japan. There are a few more brands, however, the only two brands that are truly worldwide (and have been for a long time now), are VISA and MasterCard.
Which Types of Cards are Used for Online Casinos?
For payments at online casinos, credit cards are usually preferred by people who have a larger income and are not that much worried about the fluidity of their bank accounts. On the other hand, debit cards are the payment methods chosen by people with a bit more limited financial situation and/or like to keep a closer track on their payments without the risk of spending money that they won't essentially have. VISA and MasterCard online casinos are everywhere, so it doesn't matter what type of card you will choose to deposit with – online gambling establishments always work with the biggest payment networks.
Top Recommended Casinos Sites
The Costs of Paying and Withdrawing with a Credit/Debit Card
When it comes to payments at online casinos, debit cards and credit cards usually aren't charged anything – it all depends on the issuer of the card. VISA and MasterCard aren't usually taxed for any deposits being made, but an online casino might charge you if you would like to withdraw to your credit/debit card account. If the online gambling establishment has withdrawal charges, those can be either a flat fee or a percentage of the transfer. The practice of charging customers for withdrawals is slowly fading away though, so it is more likely that you won't encounter it in the most popular online casino brands.
Transaction Times Are Steady
Among the most used, if probably not the most used methods to deposit and withdraw money from a casino account, is through the use of debit/credit cards. Deposits happen instantly, and withdrawals don't take more than 2-3 days, depending on the procedures of the online casino in question. While these are the usual standards for most establishments, there are casinos which might take up more time in completing a withdrawal process.
Virtual Credit and Debit Card Payments are on the Rise
Today you won't even need to have a physical debit/credit card in order to make a deposit at an online casino. Some e-banks issue their own virtual VISA and MasterCard, which are stored in a user's smartphone device. All virtual cards feature the standard elements of their physical counterparts – branding, card number, expiration date, cardholder name, payment network, and a CVS number. The upside of virtual cards is that they are "disposable", and once a payment has been made they can be deleted from a user's device. If there is a need for a new payment, a user can always generate more by using the bank-issuer application. Both debit and credit cards can be virtual.
Bonuses for Using Credit and Debit Cards
While this isn't a widespread practice, some online casinos might provide a promotion or bonus for using a specific brand of credit/debit card. Should they be present, those bonuses won't be overly impressive, but will still prove to be useful. They could come in the form of promotional points, maybe some bonus cash or novelty prizes such as keyrings, promo merch, etc. If you consider yourself an online casino "bonus hunter" you shouldn't put your hopes high though, as credit/debit card methods very rarely subjected to any type of promotional programs.
In the End
Whether depending on personal preference or financial opportunity, using either a credit or a debit card in an online casino is a sound solution. Payment cards are convenient, secure, and economically beneficial for the user. Although there are other methods to perform payments at online casinos, debit cards and their credit counterparts will remain to be preferred among other banking methods. Card payment has been around since the 60's in the USA, and half a century later it has become the most useful way for payments in the world!

Preferred Casinos In Your Location