Paysafecard Online Casinos – The Convenience of Online Deposit Vouchers
For almost two decades, Paysafecard has become one of the leading providers of online voucher payment services in the industry. Owned by Paysafe Holdings UK Ltd., Paysafecard is a part of a much larger family of subsidiary companies that offer various payment methods. Providing anonymity, safety, and maximum convenience, Paysafecard's online voucher solutions continue to be one of the most preferred methods for players to make deposits in their online casino accounts.
What Exactly is an Online Payment Voucher?

An electronic voucher gives people the ability to make a payment online, without having to use their credit/debit card or input any personal details. A person can purchase an online payment voucher from any Paysafecard-verified vendor – once they do, the seller will issue them a 16-number PIN. This unique number will possess the value it was purchased for, and will be ready to use at any online casino.
The Voucher Values You Can Purchase
Vouchers come available in the following pre-determined amounts: $10, $30, $50, $100, $150, and $250. Naturally, those numbers will slightly vary, depending on the type of currency they are being sold in. While usually there is a standard for any Paysafecard vouchers you can purchase, their value might be determined by the vendor or shop in which they are being offered in. Paysafecard is offered at physical shops in more than 45 countries around the world, but in some of them, there are websites that sell vouchers online.
There May Be Additional Costs
While this isn't in regard to making a deposit at any online casino, buying a Paysafecard voucher might cost you a small fee based on several factors: the vendor, the voucher amount, and the country a buyer is in. While in some countries a $50 would cost that same amount, in other jurisdictions that price might be $53. Pricing is different in most countries, so the best thing to do is to visit a shop location by yourself.
Paysafecard Promotions and Bonuses
Online casinos are known to give players a little bit of extra, should they decide to make a deposit by using a particular banking method. While so far, we haven't seen any online casinos that offer bonuses to players using Paysafecard vouchers, the company itself is known to give out a number of them for free in a lottery-based promotional program. The usual amounts that are given out, are between €10 and €100.
Top Recommended Paysafecard Casinos
Additional Terms and Conditions for your Voucher
Every Paysafecard voucher will have a type of an "expiration date". After the voucher is issued, a user will have 12 months to use any amount that is on it. If there are funds left after the 13th month has passed, Paysafecard will charge the voucher $3 for every following month. This is done to (as described by the company) "promote the full use of a voucher, as well as to cover any costs associated with the transfer of voucher funds".
Voucher Utilization Fees
Using the 16-PIN Paysafecard voucher is free, and it's not usually subjected to any types of charges or fees. In some specific cases, however, some money might be deducted as payment for a particular operation. One of those instances is a fee for currency conversion – if you've purchased your voucher in a denomination different from the one that is required for a purchase or a deposit, a percentage or a flat fee might be charged.
Another instance where some money will be deducted from the voucher itself is that if you would like to refund it. Dubbed as the "redemption fee", people who would like to get their money back for a Paysafecard voucher will pay a flat fee of €7.50. That charge is taken from the value of the voucher itself. This tax is the same for vouchers of all values – it's not usually worth it to request a refund if the 16-PIN's amount is only €10. Take note that should you like to get a refund on your Paysafecard voucher, the entire process might take up to fifteen days.
Making Withdrawals from Your Online Casino Account – My Paysafecard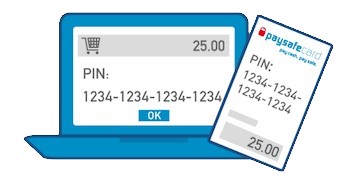 Online casinos that accept Paysafecard, usually do so only in the form of deposits. While Paysafecard is renowned for its vouchers, they offer another service called "My Paysafecard". Essentially an e-wallet platform, My Paysafecard allows people to make a free account, and use it as with any other types of e-wallets. While it is possible to receive a payout from an online casino to your My Paysafecard account, most online casinos don't do it, because of the transfer costs associated with the service.
Prepaid MasterCard – Ready
Should you decide that you would like to use My Paysafecard as your preferred e-wallet platform, you will have the opportunity of getting your own prepaid MasterCard. Naturally, you will be able to make deposits and withdrawals to that card, as it will be linked directly to your My Paysafecard account. There will be a yearly maintenance fee, as well as a withdrawal percentage – you can find the full information on the official website of My Paysafecard.
Why Don't Casinos Like to use Paysafecard For Payouts?
Usually, people that would like to withdraw their winnings already have a VISA or a MasterCard connected to their own bank account or e-wallet platform. The reason most gamblers use the vouchers of Paysafecard is that they are indeed anonymous – utilizing a My Paysafecard e-wallet account would remove that anonymity, as in order to have it properly functional, a person will need to upload some sort of a personal document proving the ownership of the account. Additionally, any potential costs associated with payouts made to a My Paysafecard account, might prove to be uneconomic to the online casino in question.
Paysafecard Mobile Application
Online casinos have already gone mobile and so have the payment methods. Paysafecard's app allows users to do much more than check their balance! With it, people can quickly search and navigate to vendors in their local vicinity that sell Paysafecard vouchers, top up their Paysafecard MasterCard, participate in promotions, perform payments, and much more. Last but not least, is the compatibility of the Paysafecard application with wearable smart devices, such as the Apple Watch and Samsung's Gear.
The Pros and Cons in Using Paysafecard
Online casinos that accept Paysafecard, do so in an instant; the speed is the same as using a credit/debit card. The amount of different money denominations allows for deposits to be made in a native to the online casino currency, and the lack of a transaction fee is definitely another plus. The drawback here is that a voucher payment is a one-way system; and if users would like to retain their anonymity, they will need to utilize a different platform for any withdrawals.
In Conclusion
If you're looking for a secure, swift, and anonymous method to put some money into your online casino account, there is no better way than to do this with the help of an electronic voucher by Paysafecard. The pre-determined amounts of the vouchers will definitely help you keep a limit on your spending, as well as keep proper track on your financial operations. When it comes to Paysafecard, online casinos prefer this deposit method – maybe you will too!

Preferred Casinos In Your Location