Not the Snappiest Name for a Game – Read our Guide to Playing Casino Craps Online
Even though it hasn't got the prettiest of names, craps has made its way up the list of popular online casino games and is up there near the top. It's a pretty simple game that involves rolling a pair of dice and betting on the outcome. It is a very popular street game as well as lending itself well to land-based venues and also online. Very little is required to play the game, just a couple of dice and a flat surface to roll them on. And preferably a few other people to play the game with.
Theories abound as to the origin of the game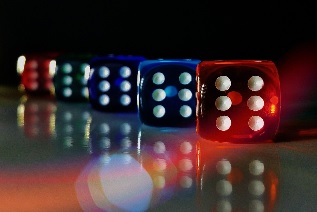 Much like a number of other casino games, the origin of craps has no definitive answer. Which leads us to believe it's another game that's developed over time. Some say that craps is based on an Old English game called Hazard and a French game called Crabes. Gamblers in America were introduced to the game around the 18th/19th centuries. A Louisiana politician, who also happened to be a gambler, named Bernard Xavier Phillipe, introduced it to his gambling chums in New Orleans. At the time it was a game that could be easily manipulated allowing players to cheat. In 1907, a updated version of the game was created by a man named John H Winn that was more like the game of craps we play today. It included a 'don't pass bet' area and also fixed the problem with the dice.
How to play online casino craps
The difficulty when it comes to playing online craps is not the game itself but finding the best online craps casino. The game itself is very easy to play. In fact, it's possibly one of the easiest of all casino games to learn to play. Even the basic betting rules are simple, as there are only two you need to worry about when you first start playing casino online craps. The two most important wagers are the 'passline' and the don't passline' bets. Over time and as you play more and more you'll learn about all the other bets you can make, of which there are over 40. But for now, the two we've mentioned are the most common ones.
Passline bet
This is an even money bet which means the amount you bet is the amount you also stand to win. When it's your turn to roll the dice you're referred to as the 'shooter'. Your first roll of the dice is known as the come out roll and the other players can make a passline bet on the outcome of your first roll. If you roll a 7 or 11 in your come out roll the other players win their bet. These rolls are referred to as a natural and automatically double the passline bets of the other players. If a shooters come out roll reveals a 2, 3, or 12, also known as 'craps' the other players lose their passline bets. Rolling any other numbers becomes the 'point number' which the shooter has to try and roll again for a win. This has to happen before a 7 is rolled, because when that happens the passline bets lose.
Don't passline bet
As you might expect, this is the reverse of a passline bet. This kind of bet is a gamble against the dice. Some people call it 'betting wrong' and refer to the passline bet at 'betting right'. A don't passline bet is one that is betting the shooter will roll a 2,3, or 12 and will double a wager. If any other number gets rolled this will be the point. But with this bet you don't want the point to be rolled again before a 7. Don't passline bets lose if a 7 is rolled. For now, this is enough to learn about the different craps betting systems. As you play more you're bound to pick up some of the others but the passline and don't passline bets are the easiest to learn for beginners.
Tips and tricks to help you play the best online casino craps
Choose to play at an online craps casino and you're going to have a lot of fun. It's an exciting game to play, also available for mobile devices, and there are ways you can offset the house edge if you know what you're doing. We've explained the two most basic bets you can make when you're playing games at a craps online casino and we're pretty certain you'll soon master some of the others. Craps is yet another game of chance so there's nothing you can to do effect the outcome of the roll of the dice. It's pretty much in the lap of the gods as to where they fall. Which means there's no strategy involved but you can choose the level of risk you're prepared to take. This will in turn affect your chances of winning. What we're saying is that we can't help by sharing a strategy. But we can help you get the most out of playing casino craps online. The following tips are designed to help the beginner but are equally relevant for more experienced players.
Recommended by more than 25,000,000 players and a WINNER of:


Fully Certified Casino
Find the right level of risk
With craps being a game of chance there's very little chance of using a strategy to increase your chances of winning. You won;t be able to affect the roll of the dice no matter what you do. Lady Luck is the one who takes control of the dice and she's only concerned with herself, not you. It's possible to maximize your chance of winning and how much you're likely to win by choosing the right level of risk. Our advice is to choose a low risk approach and only play the bets with a low house edge. In other words, place pass line bets, don't pass bets, come bets, don't come bets and odds bets. Perhaps we'd better give you a quick intro to these few additional bets we've mentioned:
Come bets – this is when you place a bet after the come out roll and you're betting that the dice will pass
Don't come bets – the opposite to a come bet
Odds bet – this is like a side bet in craps and is made after a point is thrown
Become familiar with the different types of bet
We've introduced you to the two most important, but don't forget there are more than 40 others you can place. If you don't want to learn any of the other bets you can still enjoy online casino craps. But with more bet choices you're going to be in a better position and be able to make more informed choices.
Learn the different dice combinations and the chances of them being rolled
As well as learning about the different bets it's also a good idea to understand the chances of certain dice combinations being rolled. There are certain values that have a higher chance of being rolled than others. Knowing these numbers is important because they affect the chances of a particular bet winning. Let's give you an example to try and explain. It's far more likely for you to win on a sic being rolled rather than a two.
Have fun and don't be too serious
Craps is a fun game to play so you should be having fun when you play it. If you take nothing away from this page at least try and remember this tip. Of course you want to win. Why would you be playing otherwise. What we're trying to say is be prepared for there to be some losses. Expecting to come away winning every time you hit the tables is going to leave you very disappointed almost every time. The focus of your game should be on having fun rather than making a profit.
Stay focused and be disciplined
This final tip really counts for all online casino games, not just the best online casino craps. Don't get carried away and bet everything you've got. It might feel like you've hit a winning streak, but believe us when we say it definitely won't last. Your enjoyment will very quickly end if you don't stay in control because you'll have nothing left to play with.
Other Casino Games You May Play
Our Favorite Online Casinos